These kids did a great job this week at basketball camp! Our campers were in grades 1-6. Today we finished camp with some competitions, camp t-shirts and popsicles!! The Future is Bright! Thank you to our high school players for helping work with the campers!

Good Luck to our High School Track Athletes Melaina Wilson and Briana Hann as they compete in the State Track Meet today ! Go Bears !!!

Good luck to our HS track athletes competing in the Sectional Track meet today in West Plains!! Go Bears !!

There was a false panic alarm at the school. Everything is okay.
All medication at the nurse's office must be picked up or checked in for summer school by the end of the school day on Wednesday, May 17. Any medication not picked up by a parent will be destroyed. Thank you!

The Individual Sectional Boys Tennis Tournament will be at the Cooper Tennis Complex in Springfield tomorrow beginning at 10:00 AM. Good Luck to Coach Cox and the Boys!!!


The softball district championship game has been pushed back to a 4:00pm start this afternoon.

TODAY at 2:00 PM in Mansfield our High School Softball Girls team will resume last nights postponed District Championship Game.. GO LADY BEARS!!
A retirement reception was held to honor a few district retirees. The Special Education Department would like to wish a well deserved retirement to Chari Williams. Chari has taught 32 years in public education and the last 28 of those as a Willow Springs Bear. Mrs. Williams has shaped many students during her service and will be remembered for years to come. Enjoy your retirement, Chari! 🐻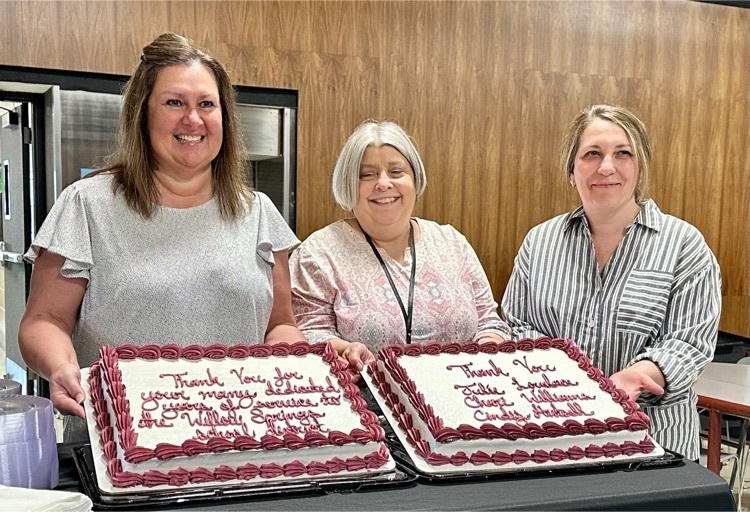 Tonight's Varsity Baseball Game at Forsyth (vs Strafford) has been canceled.

Our HS Baseball team travels to Forsyth this evening to take on the Strafford Indians in the Forsyth Tournament. First Pitch 7:00 Good luck Bears!!

THE LADY BEARS ARE IN THE SHIP!! Tonight our softball team takes on the Ava Bears in the District Championship. The game will be played at Mansfield High School. First pitch 5:00 Let's get there and support our girls ! Good Luck Coaches and Players!!!

High School Baseball travels to Cabool in SCA play.. First Pitch 4:30 Varsity only. Good Luck Boys!!

Our High School Softball Team will travel to Mansfield today to take on the Thayer lady Bobcats in the semi finals of the district tournament. First pitch- 6:00 Good Luck LADY BEARS... Survive and Advance!!

A BIG DAY for the Tennis BEARS! Boys Tennis Play for a District Championship at Rogersville High School at 4:00!!! Good Luck to Coach Cox and the Boys!!


Bear Sports Today: HS Golf - Dist.Tournament (Island Green Golf Club, Republic ) ALL DAY HS Tennis vs MG-1st round Dist. (Booster Field) 3:00 HS Softball vs Liberty- 1st round Dist. (Mansfield HS) 4:00 HS Track @ West Plains High School 4:00 HS Baseball vs Eminence-home 4:00